Newspeek #81 – Actualité Jeux Vidéo
Bienvenue en février avec cet épisode malheureusement toujours pas débarrassé des NFT.
Je vous remets le lien vers mon thread où je recense les nouvelles pages Steam que j'ajoute à ma wishlist avec une quarantaine d'entrées en janvier :
Rappel des règles : on clique sur les images pour ouvrir les liens et sur les noms des studios pour les sites officiels
---
Sorties de la semaine
---
Not For Broadcast / NotGames
Stratégie narrative / FMV en version finale. La grosse bonne sortie de la semaine.
---
Personal Rocket / Orbis Tertius Games
Point&Click
---
Solargene / Alexander Semenov
Base-building en Early Access.
---
Pepo / TeamBUD
Platformer avec démo dispo.
---
Conveyance / John Hnidec
Satisfactory-light.
---
So long as there is Mercy / MediaCube Games
Little Nightmares-like gratuit.
---
The Last Bastion / Voidpeak Games
Visual Novel / Stratégie en Early Access.
---
Billiards of the Round Table (BRT) / Moustache Cabal
Presque billard en Early Access.
---
Deflector / Arrowfist Games
Top down shooter en Early Access.
---
Rugby 22 / Eko Software
FIFA avec un drôle de ballon.
---
Apotheorasis • Lab of the Blind Gods / Konstantinos « Tall Guy » Vasileiadis
Aventure narrative.
---
Dread Hunger / Dread Hunger Team
Among Us dans le grand Nord en vue FPS qui sort d'Early Access.
---
Please, Touch The Artwork / Thomas Waterzooi
Puzzle artistique.
---
Space Betrayers / Kalopsita Games
FTL croisé avec Among Us en Early Access.
---
Covid Simulator / Coldrice Games LLC
Stratégie / Education sur la transmission du Covid.
---
Serious Sam: Siberian Mayhem / Croteam
FPS AAAAAAAAAAesque enneigé.
---
KAPIA / 2 FOR 2
Point&Click. Démo dispo.
---
Reverie Knights Tactics / 40 Giants Entertainment
Tactical RPG.
---
News
---
La « grosse » news pour attaquer : Sony rachète Bungie (Destiny).
https://www.bungie.net/en/Explore/Detail/News/50989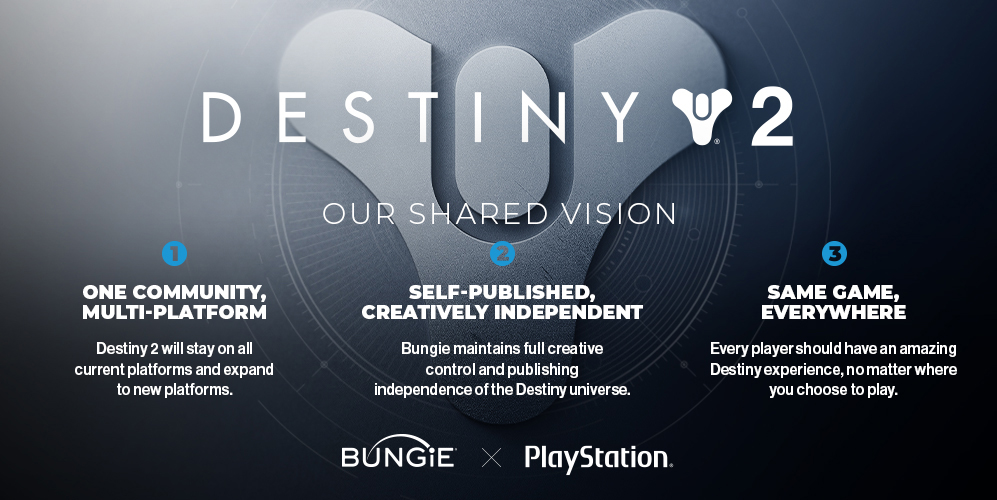 Interview de Jim Ryan (Sony) qui nous explique les raisons de ce rachat chez GameIndustry.biz :
https://www.gamesindustry.biz/articles/2022-01-31-playstation-bungie-will-considerably-accelerate-our-journey-with-multiplatform-live-service-games
---
Ah, j'ai eu peur qu'Activision-Blizzard ne change de méthode, mais rassurez-vous, ils ne se sont pas achetés une décence avec la thune de Microsoft.
https://kotaku.com/activision-blizzard-union-unions-raven-qa-chris-amends-1848456312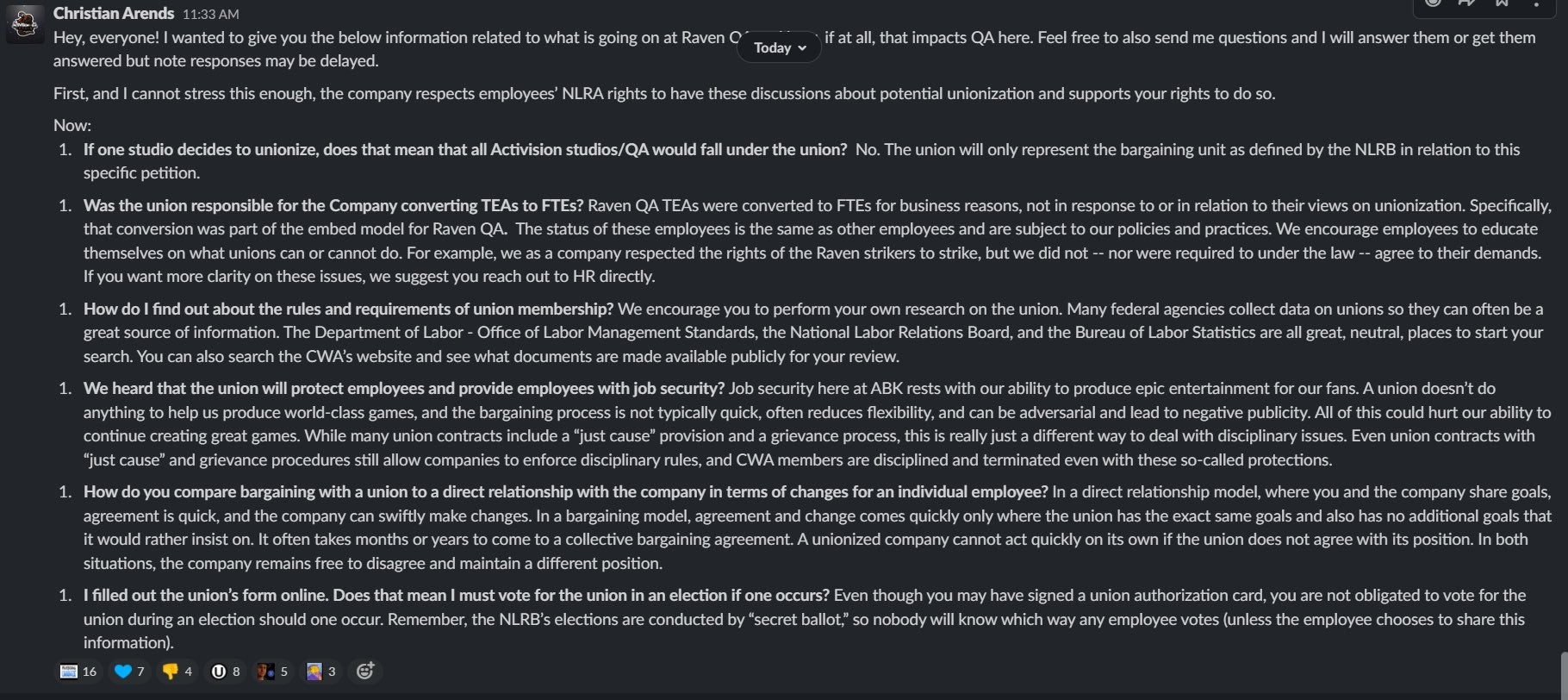 Le Vice President of Quality Assurance, Chris Arends, a posté ce message sur le Slack interne. Du pur travail de com anti syndicale.
We heard that the union will protect employees and provide employees with job security?

Job security here at ABK rests with our ability to produce epic entertainment for our fans. A union doesn't do anything to help us produce world-class games, and the bargaining process is not typically quick, often reduces flexibility, and can be adversarial and lead to negative publicity. All of this could hurt our ability to continue creating great games. While many union contracts include a "just cause" provision and a grievance process, this is really just a different way to deal with disciplinary issues. Even union contracts with "just cause" and grievance procedures still allow companies to enforce disciplinary rules, and CWA members are disciplined and terminated even with these so-called protections.

How do you compare bargaining with a union to a direct relationship with the company in terms of changes for an individual employee?

In a direct relationship model, where you and the company share goals, agreement is quick, and the company can swiftly make changes. In a bargaining model, agreement and change comes quickly only where the union has the exact same goals and also has no additional goals that it would rather insist on. It often takes months or years to come to a collective bargaining agreement. A unionized company cannot act quickly on its own if the union does not agree with its position. In both situations, the company remains free to disagree and maintain a different position.
Et parce que sinon c'est pas drôle : le message a été posté dans une partie du Slack où il n'est pas possible de répondre. Une bonne illustration de ce que veut dire Activision quand ils parlent de « garder le dialogue en direct avec les employés ».
---
La nouvelle Beta de Blood Bowl 3 a commencé et durera jusqu'au 3 février. Sont éligibles ceux qui s'étaient inscrits en juin dernier. Les autres, vous pouvez toujours récupérer un bras de gobelin arraché et vous asseoir dessus.
---
EA annonce que Respawn va nous pondre 3 nouveaux jeux Star Wars, un action aventure en cours de dev, un FPS et un jeu de stratégie en collab avec Bit Reactor. Si vous savez, le nouveau studio formé par des anciens de Firaxis : 
gamesindustry.biz/articles/2022-01-19-former-firaxis-director-greg-foertsch-unveils-new-studio-bit-reactor
Un XCOM ou un Civilization / Star Wars, je ne dirais pas non.
https://www.ea.com/news/electronic-arts-and-lucasfilm-games-announce-new-star-wars-titles-from-respawn-entertainment
---
Comment Ian Livingstone voit le futur. Il n'est pas contre les NFT et le Web3.0 mais il veut que le gameplay reste central. Moui.
Digital Assets, Earnium and Web 3.0
I've been a big believer in owning in-game assets and collectibles since painting and owning my own D&D miniatures in the 1970s. People become emotionally attached to their player-characters, and that connection has value. The fact that collectibles have moved into Web 2.0 digital games over the last 20 years ($50bn of game skins annually) is perfectly understandable. And now Web 3.0 offers the promise of truly owning your game assets and trading them as NFTs. The challenge is designing great gameplay that is twinned with a meaningful reason for why a game would be better on the blockchain.
https://www.gamesindustry.biz/articles/2022-01-24-ian-livingstone-my-vision-for-games-in-2022-playable-futures
---
Gamekult nous relaie l'info : contrairement à ce qui était annoncé à l'origine, nous n'aurons pas de Little Big Adventure 3 (pas tout de suite en tous cas) mais bien un reboot de Little Big Adventure comme l'explique Didier Chanfray.
https://www.gamekult.com/actualite/little-big-adventure-reviendra-finalement-sous-la-forme-d-un-reboot-et-non-d-une-suite-3050846393.html
https://twinsenslittlebigadventure.com/a-message-from-didier-chanfray/
As a new studio, the objective is to build a strong IP around LBA and not just make LBA3.

When we started the discussion with Fred, Samantha (our new writer) and Ben about the new game, we quickly realized that the third game we initially wanted to make – the Genesis of the Stellar Entity – would be strange to make. The script was a first draft written to end the series. With the new studio, we do not want to end the series. We want to attract a wider audience and share the wonderful world, iconic characters and story with as many players as possible, so that more Twinsunian adventures can be created.

We decided to reboot Twinsen's story.

I know some of you may be very sad to hear that we won't be creating the Genesis of the Stellar Entity. We strongly believe in a bright future LBA and think this is the best choice to ensure this future. Our goal is that our children and grandchildren will be able to continue playing new LBA adventures in the years to come.While much is still unknown, we hope to release Twinsen's Little Big Adventure in 2024 for the 30th Anniversary of the series. We will be as transparent as we can and involve the community with the development, to make the best game possible, together.
---
Le « jeu de survie de Blizzard dont on ne sait rien même pas le nom » serait en développement depuis près de 5 ans. Wait wat ?
https://www.rockpapershotgun.com/blizzards-survival-game-has-already-been-in-development-for-nearly-five-years
PC Gamer then spotted that Amai's LinkedIn account states that he's been project lead on the « Unannounced Survival Game » since July 2017, 4 years and 7 months ago.
---
Les Pégases sont plus forts que le Covid et auront bien lieu le 10 mars.
---
La quasi non-info du jour : le studio Frost Giant (farci d'anciens de Starcraft 2, Warcraft 3, Wasteland 3 ou Diablo 4, et avec le co-op designer qui vient de l'équipe d'e-sport Team Liquid) a reçu 25 millions de dollars d'investissement Kakao Games, un éditeur Sud-Coréen, pour réaliser leur futur RTS.
http://www.frostgiant.com/press-releases/
Bon, on n'en sait toujours pas plus sur leur jeu, même pas son nom, mais il y a du beau monde et des moyens, ça donne envie d'y croire.
---
La prochaine MAJ 1.5 de Crusader Kings 3 incluera les mariages de même sexe. Elle inclut aussi pas mal d'outils pour faciliter la vie des modders.
https://www.pcgamesn.com/crusader-kings-3/update-same-sex-marriage-without-mods
https://forum.paradoxplaza.com/forum/developer-diary/ck3-dev-diary-87-royal-modding.1507899/
---
Le Steam Deck, c'est pour le 25 février, avec les premiers envois le 28, pour ceux qui l'ont déjà réservé.
---
Microids va éditer deux nouveaux jeux Agatha Christie, dont un réalisé en interne chez Microids Lyon.
L'éditeur de jeux vidéo Microids et Agatha Christie Limited ont le plaisir d'annoncer la signature d'un contrat d'édition étendu portant sur le développement de deux jeux issus des œuvres de la célèbre Reine du Crime. Ces futurs titres proposeront aux joueurs de se plonger dans l'univers du détective Hercule Poirot à travers un classique revisité et une aventure totalement inédite.

Cet accord entre Microids et Agatha Christie Limited fait suite à de précédentes collaborations fructueuses, avec les sorties d'Agatha Christie: The ABC Murders et plus récemment Agatha Christie – Hercule Poirot: The First Cases. Les futurs titres concernés par ce contrat d'édition seront confiés à deux studios différents, dont Microids Studio Lyon, l'un des nouveaux studios de développement de Microids.
---
L'Indie Game Lyon numéro 3 aura lieu le Samedi 19 février 2022 de 10h à 19h à… Lyon.
https://www.afjv.com/news/10825_salon-indie-game-lyon-fevrier-2022.htm
---
L'Epic Games Store a sorti ses chiffres pour 2021.
https://www.epicgames.com/store/en-US/news/epic-games-store-2021-year-in-review
https://www.gamesindustry.biz/articles/2022-01-27-epic-games-epic-games-store-generated-usd840m-in-consumer-spending-during-2021
300M dans les « 3rd party games ». A comparer aux 265M de 2020. Une progression de 35 millions de dollars avec 34 millions « d'utilisateurs » supplémentaires. On a un panier moyen de ce qu'ils appellent des consommateurs de 1,53 dollars si on ne prend pas en compte leurs jeux internes (Fortnite, Rocket League…), de 4,32 dollars si on inclut tout le monde (194 millions qui ont dépensé 840 millions).
Pour comparer les chiffres 2020 et 2021 :
---
Pour Nicolas Pouard et Didier Genevois, d'Ubisoft parce qu'évidemment, Ubisoft, les joueurs sont trop cons pour comprendre l'intérêt des NFT. Et la presse aussi.
Kotaku débriefe une interview postée sur Finder :
https://kotaku.com/ubisoft-nft-quartz-digits-ghost-recon-assassins-creed-p-1848437476
https://www.finder.com.au/ubisoft-interview-nfts
'So, it's really, for them. It's really beneficial. But they don't get it for now'
---
Numerama revient sur le phénomène Vampire Survivors :
https://www.numerama.com/pop-culture/835475-vampire-survivors-royalement-ignore-a-sa-sortie-est-devenu-un-jeu-phenomene.html
Un truc intéressant dans l'article, un interview du développeur Luca Galante sur Vice :
https://www.vice.com/en/article/z3nyze/how-vampire-survivors-went-from-obscurity-to-27000-people-playing-at-once
Voilà d'ailleurs la dernière MAJ de Vampire Survivors :
New Content:
– 3 new achievements. Check their description to see what they unlock.
– 2 new characters, Dommario and Suor Clerici.
– 1 new special, challenge stage that is just like the classic Mad Forest, but has no new enemies nor layout. Comes with a minor new feature that will expand with every new future stage. Enter/exit a run if you've already satisfied the requirements to unlock it.
– rework of the Mad Forest layout in preparation of a future feature
– new « streamer friendly » soundtrack for the Inlaid Library stage
– option to play the old sountrack by disabling « Streamer Safe Music » from the Options menu (affects the Library Stage only for now)
– new animations for mudmen, mummies, ghost witches, and Library bosseshttp://www.youtube.com/embed/mGABLSOMtok?wmode=opaque
---
Darren Korb, le talentueux compositeur des jeux Supergiant (Hades, Bastion…), nous parle des middlewares audio.
https://www.gamedeveloper.com/blogs/composer-darren-korb-talks-audio-middleware-and-its-importance-to-game-developers
---
Yanis Varoufakis qui discute Crypto avec le Centre for Post Capitalism Civilization :
https://metacpc.org/en/crypto-blockchain/
"The idea that people must now play like robots to earn a living so as to be human in their spare time is, indeed, the apotheosis of misanthropy."
---
Interview de certains créateurs de la série Civilization sous forme de rétrospective par IGN.
https://www.ign.com/articles/civilizations-past-and-future-as-told-by-its-lead-designers
---
Un ouf guedin a recréé la map de Legend of Zelda (NES)… en Lego. Ça ne lui aura pris que 4 mois et 25 000 pièces.
https://kotaku.com/the-legend-zelda-lego-fan-massive-large-nes-nintendo-1848449305
---
Game of Roles vient d'ouvrir sa page Steam pour son projet de RPG Les Mondes d'Aria, tiré de l'univers utilisé dans les JDR sur table de Fibre Tigre, avec Daz, Lam Hua, MisterMV… Ulule lancé, il a déjà crevé le plafond.
Bon, les devs du jeu vidéo sont un peu inconnus au bataillon, je serais surpris que Fibre Tigre ne s'entoure pas de gens compétents mais ça reste à confirmer. Date de livraison annoncée à juin 2023.
https://store.steampowered.com/app/1866980/The_Worlds_of_Aria/
https://fr.ulule.com/les-mondes-d-aria/
---
Une interview du développeur de Hero's Hour (le HOMM / autobattler) à écouter chez eXplorminate.
---
Rapport de Stream Hatchet sur l'état du Streaming en 2021. A télécharger ici : https://insights.streamhatchet.com/-2021-live-streaming-report-0
Quelques données clés qu'on y retrouve :
Viewers watched an average of 653 million hours of live streaming each week across Twitch, YouTube and Facebook Gaming in 2021

Only 5% of the top 200 gaming influencers are women

Twitch continued to dominate the video games live streaming market among western live streaming platforms accounting for 71% of the total hours watched in 2021

Amouranth was the top female streamer of the year with 38.8 million hours watched, buoyed mainly by her "polemic" content, especially in the ASMR and Pools, Hot Tubs and Beaches categories. Despite this, she still only placed 46 in the top 100 streamers of the year by hours watched

The top 1.2% of influencers generate 15.8% of the total estimated revenue. The average "mega tier" (>25k concurrent viewers per live stream) influencers generate an average of $841K per year

Live streaming is no longer just about PC and console. Major mobile games such as Garena Free Fire and PUBG Mobile have helped foster massive audiences for the world's most prominent gaming creators and esports events

YouTube (Live) was the only major western platform to experience a decrease in live streaming watch time (Q2 – Q4)

Shooters & Battle Royales resonated strongly with video game live streaming enthusiasts in 2021, with the likes of Fortnite, Garena Free Fire, VALORANT, PUBG Mobile and COD: Warzone collectively generating over 1 billion hours watched

Open-world games such as Minecraft, Grand Theft Auto V, and Rust suggest a strong interest in future 'metaverse' platforms, with over 4.28 billion hours watched

Riot Games dominated the live streaming charts, with League of Legends and VALORANT generating 18% of all the hours watched among the top 20 games
---
Troy Baker a écouté les critiques et annule ses plans de partenariat avec des NFT. Encore un trop con pour voir ce que ça pourrait lui apporter, hein Ubi ?
---
Communiquer à coups de vers de terre, c'est une première. Dialogue entre Team17 qui se lance dans le cancer numérique et No More Robots qui se fout ouvertement de leur gueule.
Sur le même sujet, ces NFT Worms ne devraient pas être intégrées dans un jeu. Et certains chez Team17 ont appris l'existence de ces NFT au moment de l'annonce au public.
https://www.gamedeveloper.com/marketing/team17-announces-i-worms-i-nfts-but-stops-short-of-adding-play-to-earn-mechanics
Action, conséquence :
---
Le projet Star Wars Galaxies Restoration 3 lancé l'an dernier pour faire revivre le MMO fait le bilan 2021 et annonce sa roadmap.
https://www.pcgamer.com/a-star-wars-galaxies-revival-celebrates-7-months-of-success/
https://swgr.org/post/our-2021-retrospective-and-2022-plans.404/
---
It Takes Two bientôt sur grand et petit écran ?
https://variety.com/2022/tv/news/it-takes-two-series-film-dj2-entertainment-1235167573/
"dj2 is honored to partner with Josef, Oskar [Wolontis], and the incredible team at Hazelight Studios on the linear media adaptation of 'It Takes Two,'" said dj2 CEO and founder Dmitri M. Johnson. "Just like the rest of the gaming world, we fell head-over-heels in love with Cody, May, Rose, Dr. Hakim and the imaginative fantasy universe Hazelight have created, and can't wait to bring these characters -and this world- to life on the big and small screen."

At the time of this publishing, no studio or network is attached to the project, but sources say it is currently the subject of a multi-party bidding war. Pat Casey and Josh Miller, the writers behind "Sonic the Hedgehog" and its upcoming sequel, are attached to adapt "It Takes Two" for the screen.
---
Vidéos
---
---
---
---
---
---
---
---
Trailers
---
---
---
---
---
---
---
---
---
---
---
---
---
---
---
---
---
---
---
---
---
---
---
---
---
---
---
---
---
Voilà pour attaquer février et sa cohorte de sorties d'envergure, on se retrouve la semaine prochaine pour les prochains gros rachats et les dernières révélations sur la façon dont les studios AAA s'essuient avec les droits de leurs employés.